Martine MacDonald
Martine has 27 years' experience in the travel industry
Martine is an Australian Specialist having visited the country 3 times with stops en route in Dubai, Tokyo and Singapore.
Travelling West, she has visited Hawaii, San Francisco, Las Vegas, Boston, New York and Florida and the Bahamas. She has recently returned from Deep South America, taking in New Orleans, Memphis and Nashville.
She has enjoyed some time in Jamaica, Antigua, Dominican Republic and the beautiful Maldives, most recently a trip to Mauritius.
Martine has also visited Sharm El Sheikh, Halkidiki, Zante, the Spanish Balearics, mainland Spain, The Canary Islands, Portugal, Southern and Northern Cyprus, and in Turkey, experienced a Gulet Cruise.
martine@pebblestravel.co.uk
01249 447488
Sadie Goodship
Sadie has over 18 years' experience in the travel industry and has travelled extensively having visited 9 Caribbean islands, including Mexico and Cuba, toured Eastern Brazil, enjoyed a safari in South Africa during a tour of The Garden Route ending in Cape Town.
Sadie has spent time in Mauritius, The Seychelles and has had an escorted journey in Sri Lanka.
She has also visited the Far East with stops in Bangkok, Koh Samui, Koh Lanta and Singapore.
Australia is a favourite destination and her stops include Sydney, Melbourne, Cairns, Alice Springs, Ayers Rock and Perth.
European trips include numerous Greek Islands and a tour of The Peloponnese. She has also toured The Alentejo region of Portugal. Also the Canary Islands and "off the beaten track" Turkey, most recently in Morocco, with a trip to the Atlas Mountains, ending the year in Florence, Venice & Rome.
Sadie has also experienced a Nile cruise and a great trip to Jordan, spending a night under the stars in Wadi Rum, this year she also spent time in Abu Dhabi.
Her latest long haul adventure was to India taking in the iconic sights of The Golden Triangle, Delhi, Shimla, Jaipur and Mumbai.
Eastern Canada was also explored this year during a trip to Newfoundland and Labrador.
sadie@pebblestravel.co.uk
01249 447488
Carol Price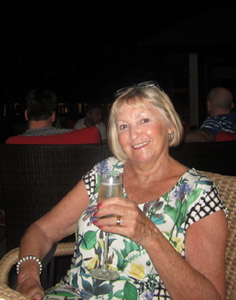 Carol has over 40 years of travel experience and has completed her bucket list, added to it and still looking for more distant adventures !
She has almost finished her A to Z of countries visited with only Q left to do, so we think Qatar must be next to tick off !
Listing countries she has visited in no particular order as she loved them all China, Egypt, India, Myanmar, Peru, Ecuador, Galapagos, Mexico, Vietnam, Cambodia,South Africa,Thailand, Malaysia, Singapore, Borneo, Bali, Namibia, Zambia, Kenya, Sri Lanka, New Zealand, USA, Fiji, Maldives, Mauritius, Reunion and the Seychelles.,
Closer to home  Russia ,The middle East, Oman being a particular favourite, Dubai, Abu Dhabi , Bahrain, Egypt, Jordan, Morocco.
The Caribbean including Barbados, Antigua, St Lucia, St Kitts, Nevis, Cuba , Dominica and has been lucky enough to sail around the windward Islands on board the Royal Clipper.
Most recent adventure Small ship sailing in the South Pacific area of French Poynesia  on board Windstar from Tahiti around the Society Islands including Moorea,Taha'a, Huahine and Bora Bora .
She has been known to visit Europe from time to time ! I will do Europe when I retire Carol reminds us laughing !
It would be easier to say where hasn't she been!
Highlights ?? Has to be The Taj Mahal, flying over Everest. Reaching Machu Picchu having walked part of the Inca Trail, standing on the Great Wall of China and the amazing temples of Angkor Wat.
carol@pebblestravel.co.uk
07464 786056